YOUR PARTNER FOR MINERAL WATER PROJECTS
Sales programme in Turkish market:
We are a machine marketing company, active in several business areas in Turkish market;

bottling machines

hallow glass decoration

inspection systems
We are serving with 15 years of experience to our customers as exclusive distributor & agent of machine makers of above business areas from Germany, Italy, Spain and Poland.
Sales programme for export:
On the other side, our long experience with bottling machines in Turkish market allows us to offer Turkish make machines and consumables to the bottling industry worldwide, always keeping excellent price/quality ratio.


BOTTLING MACHINES
PET bottle blowing

Bottle filling

Bottle labelling
PACKING MACHINES
Shrink wrapping

Carton case erecting

Pallet wrapping
MOULDS
PET blowing moulds

PET preform mould change parts
CONSUMABLES
Pet preforms

Caps

Handles

Labels

PC bottles, 19 liters

Shrink films
Blowing machine
FOR BIG PET BOTTLES
Machine speed for 5 lt:  max 2.500 bph

Machine speed for 19 lt: max 600 bph (with 300 gr preform) [...]
Filling machine
FOR PET & GLASS BOTTLES
Monoblock Rinser-Filler-Capper: capacity max 30.000 bph for Still Mineral Water

All neck handling system

Bottle volume between 0,5 lt - 19 lt [...]
Labelling machine
FOR PET & GLASS BOTTLES

Suitable for only cylindrical PET and GLASS bottles

LINEAR models max 18.000 bph at 0,5 lt

ROTARY models max 30.000 bph at 0.5lt

BIG PET BOTTLES OF 5 AND 10 LT;  machine versions are available for 5 and 10 lt big PET bottles [...].
Linear filler for chemicals, *Disinfectants
FOR PET & HDPE BOTTLES

Suitable for cylindrical, oval, square bottles

LINEAR design with flow meters

Good for chemicals, detergents, disinfectants which may be corrosive, foamy, viscous products

Max 6 fill head at 6.000bph, with various type of caps; screw, push-on, trigger etc [...].
Shrink wrapping machine
FOR PET & GLASS BOTTLES

OVERLAP type, without sealing bar models

Film only and film+pad applications

Single lane, 45 pack/min     

Double lane, 90 pack/min
SEALING BAR type models

Film only and film+pad applications

Single lane, 14 pack/min & 20 pack/min [...]
Carton box erecting machine
FOR PET & GLASS BOTTLES

All automatic case erectors for american type ready carton boxes

Compact design at max 16 box/min

Combination with carton erectors, pick&place creater and carton closer is possible

Easy to maintain and integrate

Every package material can be used

Conveyors are available [...]
Pallet wrapping machine
FOR PET & GLASS BOTTLES

All automatic pallet wrappers

Rotating arm system

Rotating pallet system [...]
Bottle blow moulds
FOR PET BOTTLES

High quality blow moulds for pet blowing machines

Moulds for linear and rotary machines

We can also offer bottle design
PET preform mould parts
FOR PET BOTTLES

High quality, very precise preform mould parts, to change the weight and neck of preform moulds
PET preforms
PET

Bottle preforms of various weights and necks, for Still Water, Carbonated Mineral Water, Soft Drinks (beverages), Edible Oil etc
Jar preforms comes with various weights and necks; eg. 63mm and 110mm [...]

PP Screw water caps
PP

Plastic screw closures for PET bottles

Assuring the integrity of the pet bottle and breaks after first opening

Embossing is possible

29/25,   30/25,   PCO   neck finishes [...]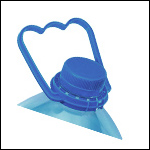 PP handles
PP 

Handles suitable for manual and automatic machine application

55mm neck handles for 5 gal (19 L) PET or PC bottles

48mm and 38mm neck handles 5 L and 10 L PET bottles [...]
OPP Labels
OPP

OPP film labels suitable for complete wrap-around applications with hot-melt glue, such application suggests good graphics of Offset Printing together with the appeal and durability of OPP films, plus the competitive price advantage of being able to print thin gauge films.

Self adhesive PP labels suitable for partial applications comes with ready glue and letterpress application.

We can also offer label artwork design [...]
5gal (19lt) bottles
PC

Refillable PC water bottles,  55mm neck

Without handle, ready to use

We can supply 55mm caps together with the bottles

Heat shrink film
PE

Heat shrink film for shrink packs

40 - 80 microns

Excellent quality, comes with low static electricity, enables good application for full automatic shrink wrapping machines [...]
 
Check how we can support your projects...
Inquire today!
+90 542 652-0367
+90 232 407-9575
1357 Sk. No.1-11 Alsancak 35220
Izmir, Turkey